Aidi — Communities (Part II)
Return
The previous article highlighted the meaning of a community, the difference between a community and an audience and the importance of community building to the growth of your business.
Now that you have understood this, it is time to hit the ground running and begin the community-building process. To do this effectively and build one aligned to your overall business goals and objectives, here are some best practices to consider;
Define what 'community' means to you/ align the definition with community members: 
Communities mean different things to different startups at different stages of growth. For instance, a 4-month-old B2B fintech startup will not have the same use and definition of a community as a 2-year-old edutech startup. However, shared interests and similar goals are at the core of the community. 
To build a community, it is very important to define what a community means to your startup. A good place to start will be defining your 'why'- the reason why you are building the community and how you can create value for every community member. You can also create a plan/ strategy, no matter how simple to keep your community engaged. 
To get a clear vision for your community, it is important to step out and speak to potential members of your community, get their feedback and then build based on the information received from them. The advantage this gives is that you realize in a better light, how your community can serve them better than the others out there and the kind of value they expect to get from you. 
While building your community based on the feedback given, bear in mind that your first solution might not always meet everyone's needs. You can then keep testing to see what works for every member, iterating on feedback to ensure that the different personas within your community get maximum value.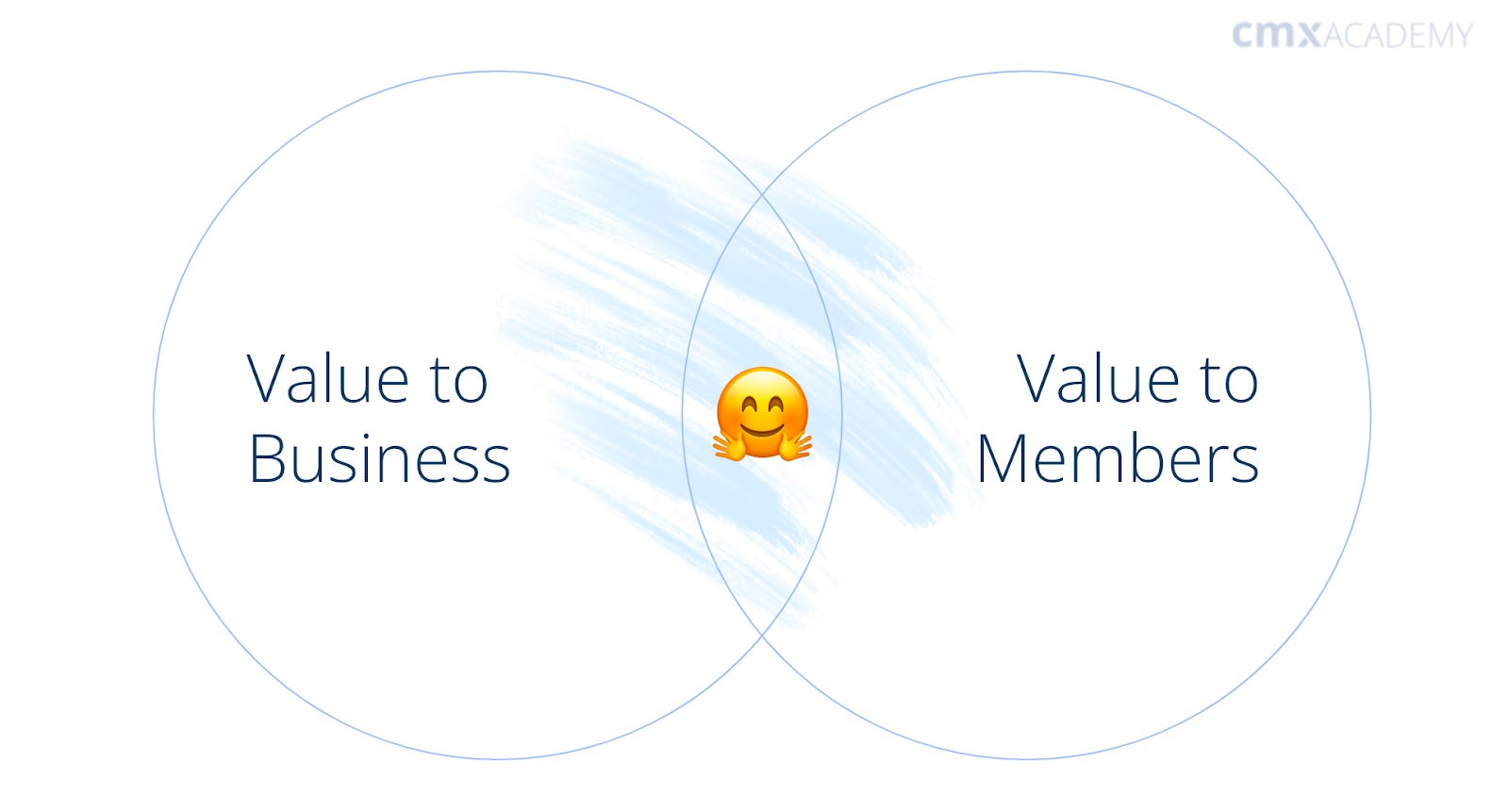 Source: CMX Academy
Align community to business goals:
After you have defined the goal of your community, it's now time to think business. This implies that your community strategy should not be independent of your business goals. David Spinks, co-founder of CMX created the SPACES framework to guide founders on aligning communities to business goals.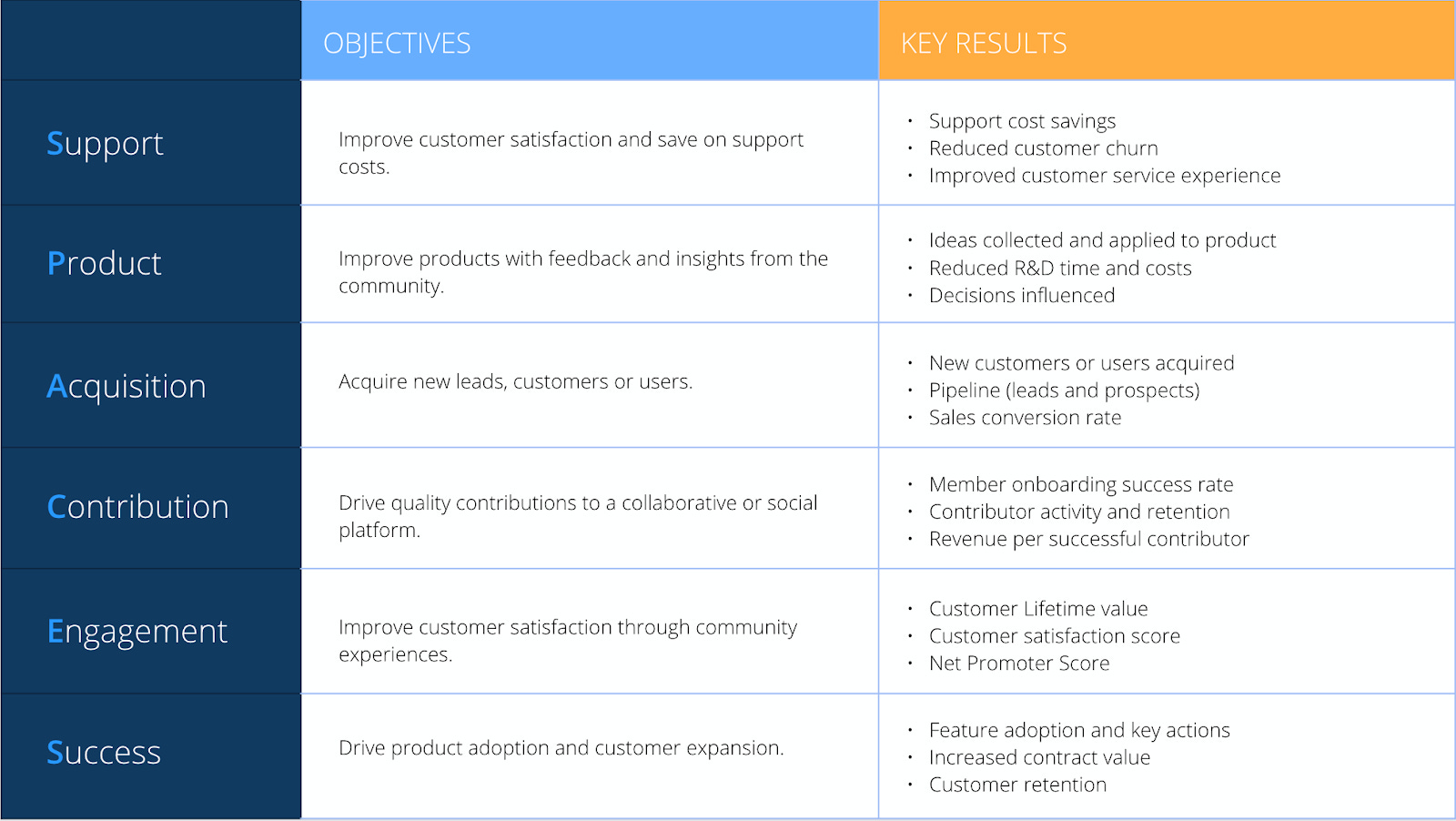 It is up to the founders or community manager to choose the SPACE they want, but David pointed out that for early stage startups, the SPACES of choice is oftentimes focused on the product because it provides a method to get fast feedback as well as quick sharing of updates and testing. It also serves as an acquisition strategy as founders can acquire long term customers through the community. This helps early stage businesses with the objective of finding product-market fit. 
For growth-stage startups who have achieved product-market fit and are now looking to grow their revenue, their community goals centre on engagement and contribution as having more engagement with customers will lead to accelerated satisfaction, more referrals and customer acquisitions which will potentially increase the revenue of the startup. 
For startups who have reached the maturity stage, the need for support and success will likely become your core community objective. This is because a sizeable part of the market is already using your product/ service and having evangelists from your community will be of huge help in helping other community members resolve issues/difficulties and will be instrumental in providing answers to the questions they will have.
Create a community strategy:
After you have defined your why spoken to potential community members and aligned community goals to your business objectives, then you create your strategy. This strategy can be broken down into 3 tiers- high level, community and member level strategy. 
A high-level strategy is one that outlines all of your community's overall objectives and occasionally, tracks the impact your community has on members. 
Your community-level strategy should involve programs created to help you achieve your community objectives and helps track metrics that look into the health of your community. For example- the value members are getting, the number of active members and how members perceive your community. Metrics to be measured include- daily active users, monthly active users, etc. 
Lastly, your member-level strategy should zero in on the daily operations like member onboarding, creating community guidelines etc. Metrics that can be tracked include- the number of events organized, number of messages sent, average response rate, etc. Remember to tie your community strategy to your business objectives. 
Create a sense of belonging:
Your community should impact both your business and your members. You should make sure that members become a huge part of the community through all activities. Create programs that are inclusive for all, foster relationships in the community, take out time to know and understand the needs of your community and provide solutions to their pain points. 
Remember that community building is a process and will require dedication, effort and constant iteration. However, if built and managed well, communities can be a huge contributor to the success of your business. So go ahead and speak to your potential community members, align your objectives to your business goals, and build a community your customers will love to be part of.